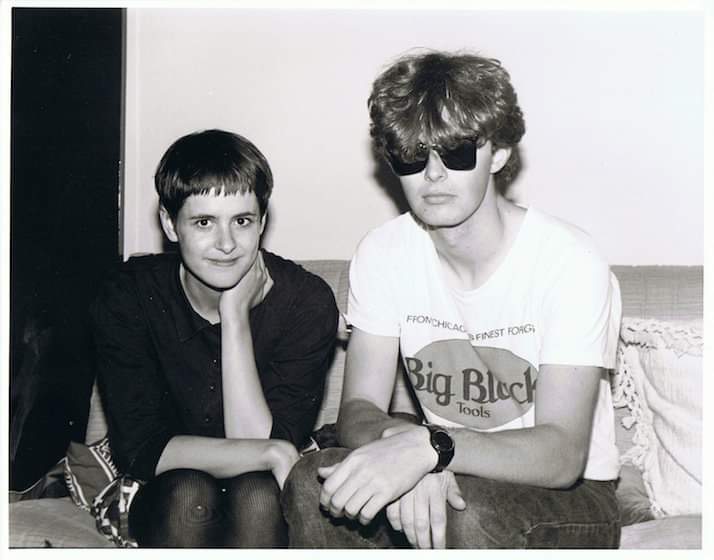 When Pam Berry and I started chickfactor zine in 1992, you can be damn sure we were listening to both Heavenly and the Pooh Sticks. We interviewed Heavenly for CF2 (Amelia Fletcher is on the cover with Bridget Cross from Unrest), but we never got to interview Hue Pooh, though we do remember a memorable show at Maxwell's in 1992 or 1993. During pandemic lockdown times, Rob Pursey wrote some songs that were too punky for the Catenary Wires, so he and Amelia thought of Hue for a collaboration. So Swansea Sound was born—featuring Hue, Amelia, Rob (Skep Wax Records, The Catenary Wires), Bob Collins (the Dentists, the Treasures of Mexico), and Ian Button (who plays in too many bands to list)—and they're about to release a fab new album, Twentieth Century (out Sept. 8), and go on tour (see dates down below). They need no introduction to you, reader, but we figured it would be fun to have Hue and Amelia interview each other after all this time! This is their conversation. Swansea Sound artwork by Catrin Saran James and Jon Safari.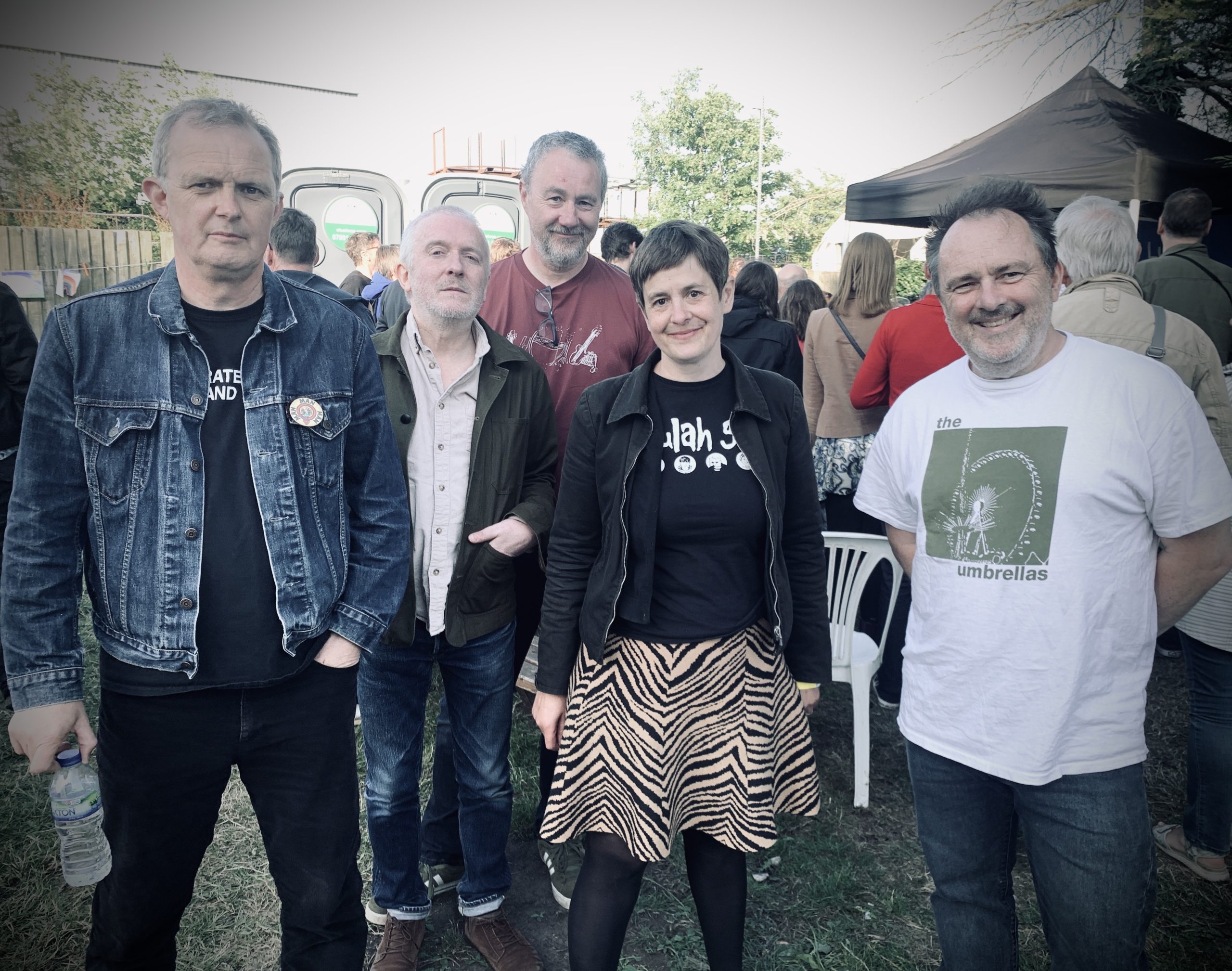 Hue: What was the first song / record you can remember hearing, Amelia?
Amelia: I have no idea, but I do remember the first time I took a real interest. My parents had the Sgt. Pepper album and the sleeve had all the lyrics on it. I remember diligently learning all the words. I think I was 7. I more or less still know them all.
How about you? And when did you first decide you wanted to make music yourself?
Hue: Mine is Beatles as well. Ob-la-di, ob-la-da. Though it wasn't a single in the U.K. so I reckon I'm remembering the version by Marmalade which was a No 1.
Although that was '68 and I would've been three so whether or not this is a half-remembered memory or accurate I'm not quite sure.
I was in a band of sorts when I was 8 but I'm not sure if what we were doing was music. I played a pink glitter guitar which is impressive considering I can't play guitar in the 21st century. We didn't have a name though I have retrospectively named us the Swansea Bay City Rollers.
Can you remember what was the first song you wrote and were you already in a band?
Amelia: The first song I wrote was called "Tissue Smiles".  I have no idea why! It had pretty terrible words, but a decent tune.
It was for my first band, which was called Splatter Babies. We were in sixth-form and practised in our drummer's parents' front room. Adam Franklin (latterly in Swervedriver) was the guitarist, and wrote most of the songs. At that point, I presume he thought it would be good to have a girl singer. Being in a band with me for a year obviously changed his mind!
Hue: Ah splendid. I think I've seen a picture of you in Splatter Babies but not heard anything. We could / should cover 'Tissue smiles' if we get to that difficult third album with Swansea Sound!
Amelia: How did the idea for The Pooh Sticks come about, and what was the first Pooh Sticks song?
Hue: The idea of the Pooh Sticks initially was just very much an idea. I came up with the name and the concept  of forming 'the ultimate 'wimpy' band'. I was stuck on Temple Meads train station in Bristol overnight with Steve from Fierce Records as we'd missed the last train to Swansea after a Primal Scream gig (jingle jangle version).
We then wrote 'On Tape' together with me coming up with the punchline and some other lyrics. Steve did the rest and we literally recorded it line by line as it was written. That was quickly followed by 'Indie pop ain't noise pollution' and 'I know someone who knows someone who knows Alan McGee quite well'.
Was Splatter Babies your only band before Talulah Gosh? How did TG get together and how quickly did the first songs and shows come about? Was the first gig in Oxford?
Amelia: That was the only band before Talulah Gosh. (Other than "The Peedles", the Beatles covers band I attempted to create with a couple of school friends when I was 7!)
Hue: Ah so you were in a band at the same time as me doing the Swansea Bay City Rollers. The Peedles? I would buy a T shirt if you make one.
Amelia: Not sure how big a market there would be for that one! Talulah Gosh came together remarkably quickly. The guitarist and drummer part was easy – I asked my boyfriend Pete and my brother Mathew. I met Elizabeth at a gig in November '85 and invited her to join the band on the basis of her wearing a Pastels badge We then found Rob to play bass – he was auditioned not on the basis of his playing but the records he had on his wall!
And we played our first gig by March '86. Just four months after meeting Elizabeth. We had already written some of our most well-known songs by the time of that show!
Hue: So Rob did play live and was in the very first incarnation of Talulah Gosh? Before he left to join an Italian prog rock band for a tour of Sweden?
Amelia: Yep, I think Rob left TG on the basis that we were all a little annoying to be with at that point. He relented later! (I think).
Why on earth did you think of asking me to join The Pooh Sticks?
Hue: A few reasons I guess.
We had been offered a Peel Session and felt that Steve Fierce singing parts a bit out of his comfort zone couldn't last. We could see you found it hard to say no to an indie band when they came calling, so we thought it was worth a 5p coin in the local phone box. You did reply 'aren't you the band that take the piss out of indie'! We actually liked many of the C86 era bands, particularly the melodic ones as we were pop fans ostensibly. I had seen you play in Port Talbot in Dec '87 I think, which was near the end of TG. The session was maybe the April of '88 so we figured you had some spare hours. You were a good sport. But I can't imagine either of us thought we'd be still singing / shouting at each other 35 years on.
The Gosh seemed to attract a whole bunch of press. Some gushing, some less pleasant. What's the most memorable for you? Good and bad?
Amelia: I think the most extreme press we got was actually in TG. On the plus side, we managed to get a whole page on page 3 of NME when we'd barely started. A rave from the Legend!, headlined "Do you remember fun? Talulah Gosh do!"
Hue: Yes, I remember that article by Jerry Legend I think.
Amelia: On the negative side, our very last press interview was also in NME but this time with Steven Wells. It was a big piece but he was totally horrible about us! He also referred to us as Aryan, which was pretty insensitive given I'm half-Jewish and huge numbers of my grandparents' relatives died in the holocaust. The allegation seemed to be purely based on us having short bleached hair!
Hue: I know Steven Wells isn't about any more to defend himself but he was a showboating writer and that doesn't read well now at all does it? I met him a few years later as he made a video for a band I was managing. He found out I was from the Pooh Sticks and I got the distinct impression he didn't like us. The video he made was totally rubbish by the way.
Amelia: We also got 1 out of 10 in NME for the second Heavenly album from guest reviewers Shampoo. But to be honest we were quite amused by that.
Hue: Ha! Shampoo supported the Pooh Sticks once at the Garage in Highbury as they signed their mega record deal. This was around the time that every band who supported the Pooh Sticks seemed to be become very successful overnight like Pulp, the Cranberries, David Gray, etc!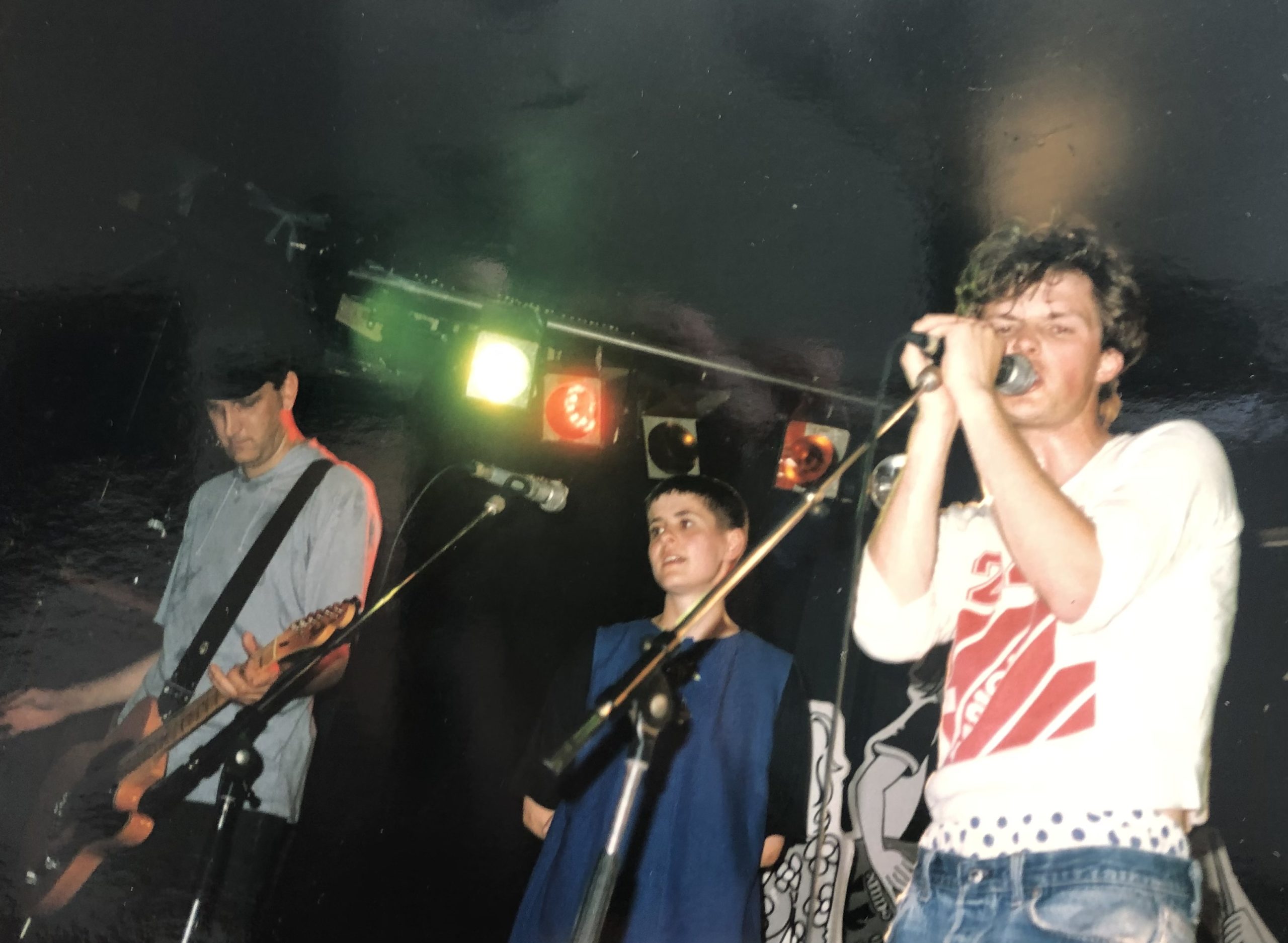 Amelia: The Pooh Sticks had a good run. But I know you were actually up for trying to be famous (in a way that Heavenly never really had been). Were you ever pushed by your record label to do anything you were uncomfortable with? And how do you think you would have handled REAL fame?
Hue: I'm not sure that I was trying to be famous at all, it's just that I didn't have anything better to do when a major label came calling. I was working as a tennis coach at the time which I kinda enjoyed, but the chance of doing music full-time for a while seemed to make sense.
I did think signing to a major at that time would be the beginning of the end unless we sold records which we obviously didn't, but we felt the songs we had needed more time in the studio and that this was the only way to do that. That possibly wasn't true.
The label wanted us on the road playing lots of shows though. Up until that point we'd only ever played a handful of shows, so that became a bit of a slog pretty quickly. I'd had enough by the time we did a (successful) tour of Japan and decided I didn't want to be in the Pooh Sticks anymore. I did return to be on Optimistic Fool (our last LP) as long as I didn't have to tour. I had started to manage a band and work as an A&R at that point so was a busy bod.
Real fame wasn't going to visit us, but I think it looks like hard work. I've got a few friends who became 'famous' like Catatonia, Super Furries or even the actor Rhys Ifans and it looks like hard work to me!
Amelia: Yep, I agree. Fame does looks like hard work. Stressful too! Fortunately, we got even less close than The Pooh Sticks!
Hue: You've never really stopped making music whereas I've had plenty of time away from it. Which parts do you enjoy the most? Writing? Recording? Touring? Doing fanzine interviews?!
Amelia: Fanzine interviews of course! Especially for Chickfactor, obviously!
But actually I probably like playing shows the most, although maybe because we've never done so many that they feel like a slog! For me, it isn't necessarily the touring so much (although that can be good fun too) but the actually performing on stage. I'd like to say I just really like singing but it is probably just that I am an attention sponge!
I always enjoyed playing with The Pooh Sticks too—even if I quite often messed things up! Like that gig when I clean forgot I was supposed to be writing across your chest in lipstick and you were just standing there waiting with your torso exposed. Sorry again about that! I'm useless at rock antics!!
Hue: You often mention the lipstick on torso thing as if I was hanging around for ten mins!  I remember it all going smoothly and there's photographic evidence to prove it happened. I think what you wrote on me was 'Hearthrob'! We were playing with Ween in New York and in the pic we were packing a massive stack of Marshall amps. The one and only time that happened I think.
Amelia: 'Hearthrob!' That's funny. I bet I spent at least some of the time onstage wondering if there should be one or two "t"s in Hearthrob. That's how rock n roll I ever was!
Hue: I certainly wouldn't get my top off onstage this days. Though there'd be plenty more space to scrawl on!
What is your favourite song from the many you've written and which do you think is the best if it's not the same one?
Amelia: Hmm. I think "P.U.N.K. Girl" is probably the best—mainly because it strikes a nerve but is not like anything else! But I think my favourite song might be "Memorabilia" by Tender Trap.
Partly because it was based on a silly song I invented to sing the kids when they were babies (I sang it while doing baby yoga on them to get rid of their wind!). Partly because it ended up being about memories of my brother. And partly because it's just a good song.
So Iet's move forward to Swansea Sound. I have very vivid memories of sending you that first song in Lockdown ("Angry Girl"), and then trying to figure out how to mix in the vocal you recorded in your kitchen on your phone! I'm still amazed at how well that worked!
But did you think at that stage that it would more than a couple of silly songs? When did you realise it could be something bigger?
Hue: You had mentioned for a little while that Rob had a song that he thought was Pooh Sticky. I'd had some friends previously send me songs but it never went anywhere or felt right. At one point I think I even talked with Liz from The School about writing some songs, but when "Angry Girl" landed it was a good time in the sense that is was in the early days of the first lockdown so I had plenty of time.
It was an odd time as I was, if not exactly shielding, very much living solo, as I have quite bad asthma and have been hospitalised a few times with attacks. So I was living rurally in a village at the time, like you do, not knowing how it was all going to pan out.
I didn't really think "Angry Girl" sounded like it would suit me necessarily, but I could hear it probably wasn't a Catenary Wires song! Took me a while to figure out how to listen to the track on one phone and then sing/shout into my other one. I tried a couple of rooms in the house but ended up on my knees in the kitchen.
I listened back and it sounded horrible! I sent it not knowing how you could knock it into shape, but when you did ping it back I was amazed. It sounded so fully formed.
I guess I wasn't sure what would happen next but I think Rob then sent 'Corporate Indie Band' and we immediately thought we should put it out even if it was low key and very limited.
I only realised it could be something bigger when Gideon Coe played it with much enthusiasm and Rob kept writing new songs almost to order. Then the first show we did at the Preston festival worked surprisingly well.
'Live at the Rum Puncheon' is a pretty remarkable LP considering how it was recorded. It also set things nicely for a follow up to sound like a step up simply by the fact we were actually in the same room together this time.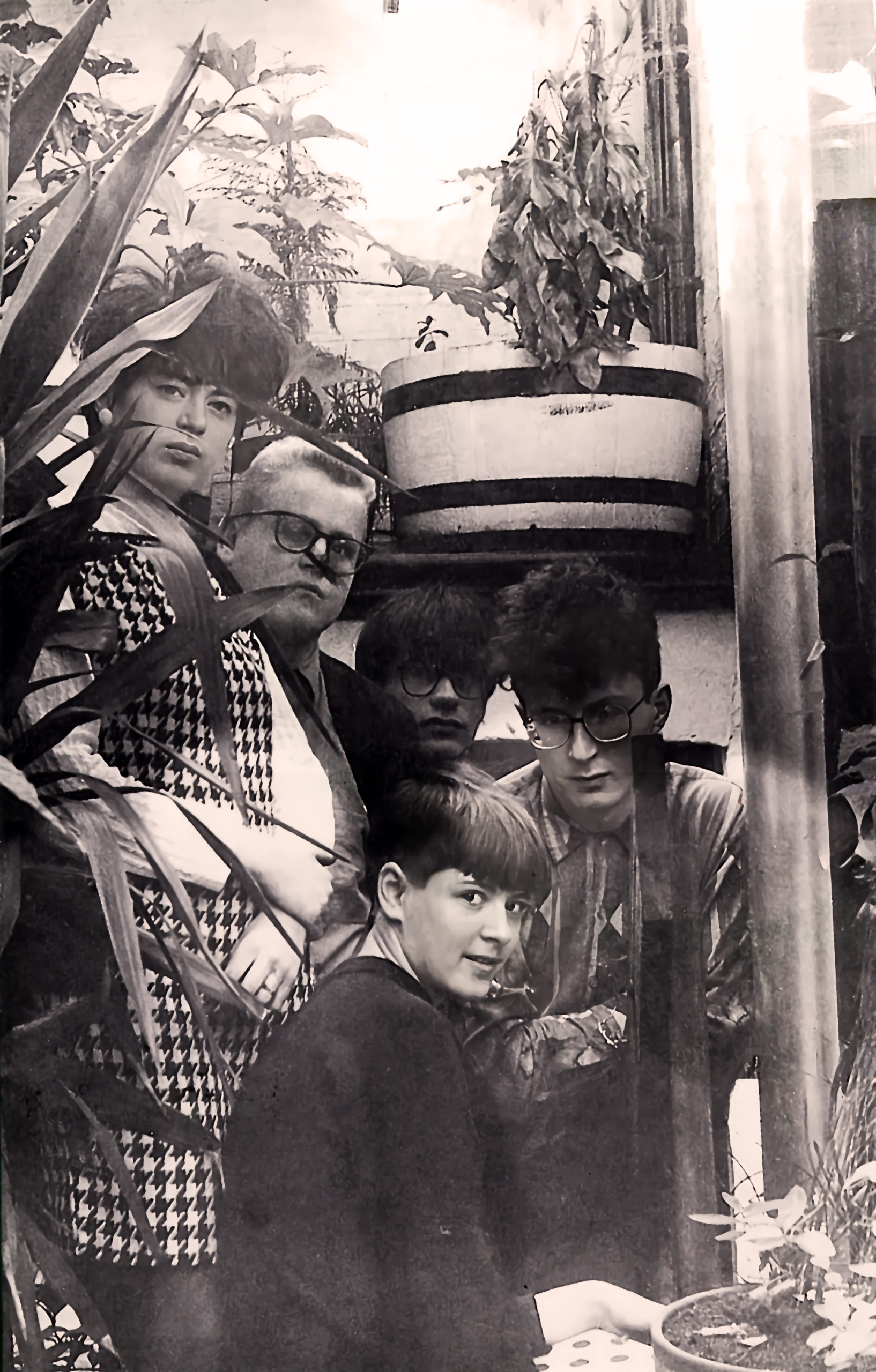 Amelia: Is there a plan for world domination, and if so, what's the next step?
Hue: World domination? We'll keep socking it the squares and straights across as many continents as we can in the short to medium term. Really looking forward to playing the U.K. shows plus in Europe and obviously going back to Japan and then hopefully the States. I just hope my dodgy hip holds out!
You've made/edited a few of the videos for Swansea Sound which has impressed me. Is music your only form of creativity or do you/would you write or paint?
Amelia: I've enjoyed making the videos. Rob and I tend to come up with the ideas and then I edit them. We did the last few Catenary Wires ones too, and a recent new video for "C Is the Heavenly Option" by Heavenly.
I think video-making is the kind of art form that suits me as it requires lots of patience and technical ability and then just a good creative idea or two. I'd love to be good at proper art or writing but I'm honestly useless at both! It is constantly galling to me. But I'm also constantly impressed by people who are good at either!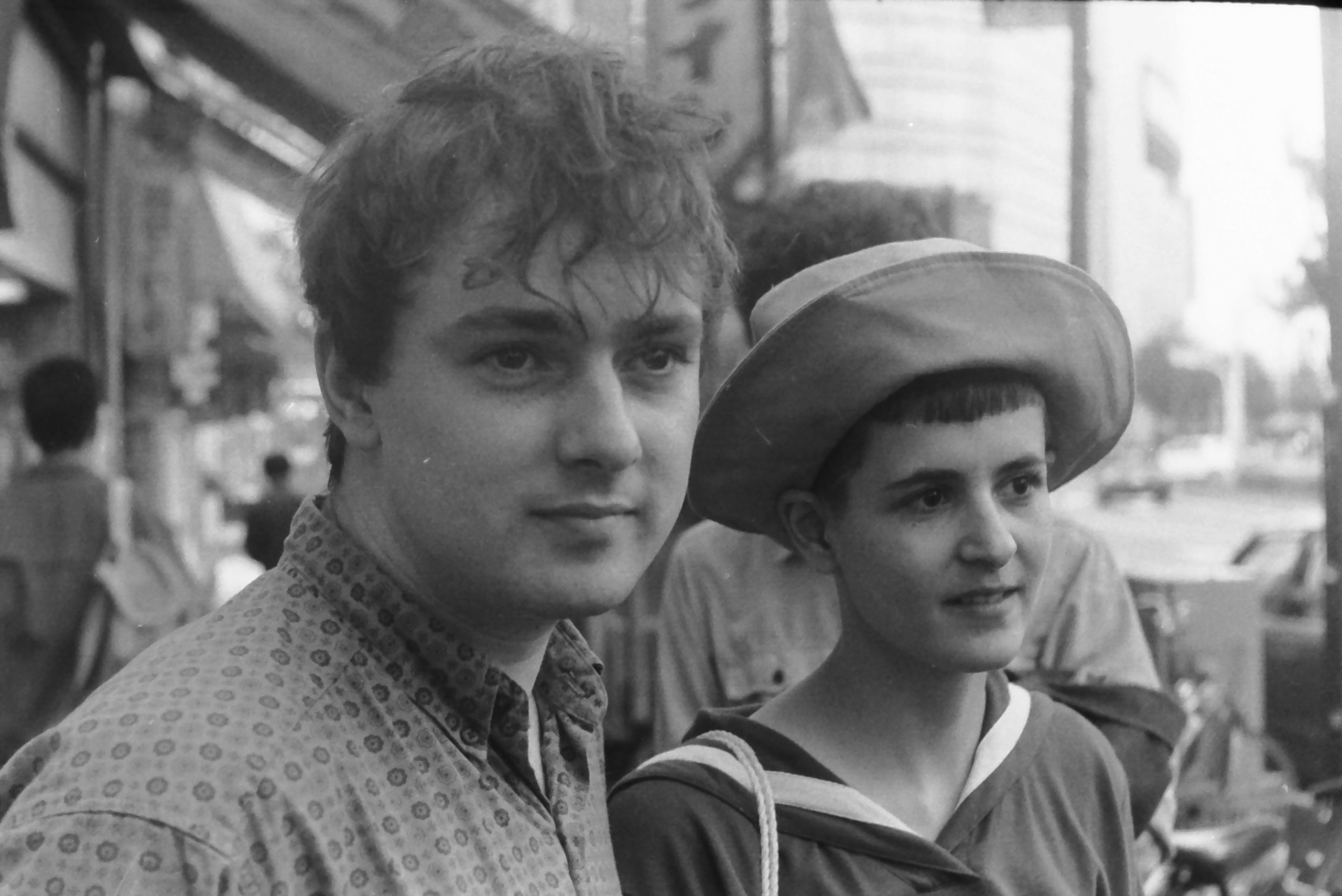 What are you most excited about for the coming year? Here's mine. Getting to play in the US and Japan again! How about you?
Hue: Yes I'm very much looking forward to going back to Japan. I've been twice before once with the Pooh Sticks in '93 which was so great I left the band for a while as I thought it would all be downhill from there. I did return for another LP but never played live again until reforming in 2010. I also went in '96 with a band I was managing which was a very intense trip. We'd been to New Orleans and then LA for shows on the way so it's only the time I've kinda circumnavigated the world.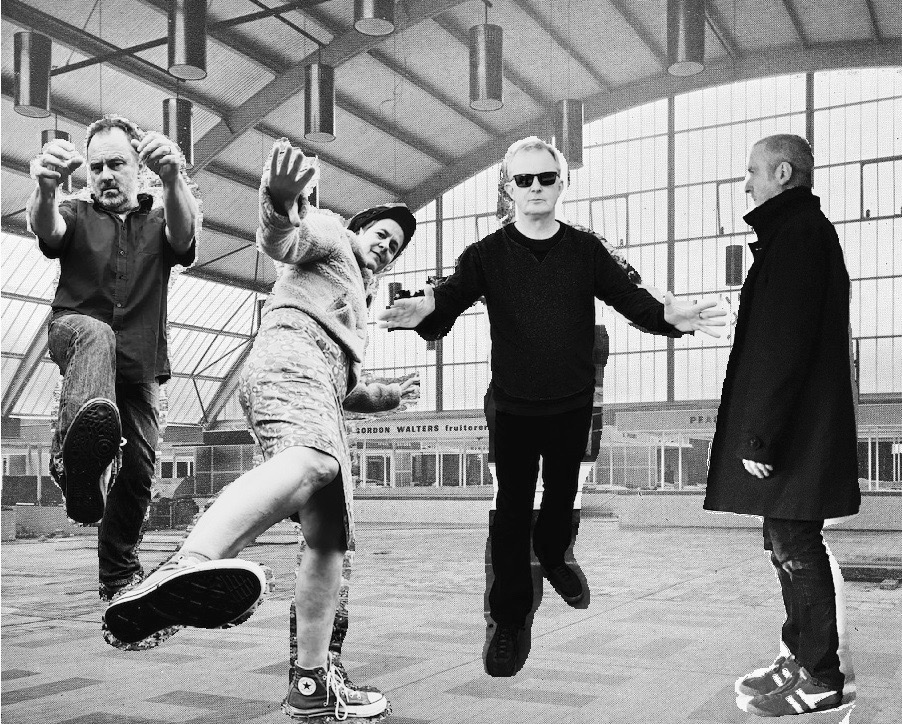 The bass player didn't sleep for four days and had an 'episode' at Tokyo airport with some armed guards so we had to miss the flight bless him. He wasn't in a good way and insisted on being on a flight where he could smoke which wasn't easy in '96. We finally got a flight with chain smoke-loving Air France and he returned to Wales in a fug of fags and free champagne.
I'm also excited about hopefully just being alive for another year as I've lost two friends suddenly in the last week.
The lovely Michel Van de Woude who you obviously knew as well as the guitarist on three of the Pooh Sticks albums. Michel indeed did play hot licks and was in our line up at Reading festival when we were the best of all indie bands. I will miss him.
Amelia: Yes, that was really sad news.
Hue: Also my mate Tim passed very suddenly this week and was only 53. He was a gig buddy but also came to our shows. Very sad about that.
That puts everything into (a Spinal Tap) perspective.
So let's indiepop (or rock) til we drop and enjoy what we have.
Amelia: Cheers to that! CF
Swansea Sound dates
Sept. 8: Twentieth Century Listening Party
Sept. 9: LIVE album launch at Rough Trade East
Sept. 14: Manchester, The Talleyrand
Sept. 15: Cardiff, Moon Club
Sept. 16: Carmarthen, Cwrw
Sept. 17: Bristol, Rough Trade (FREE)
Sept. 27: BBC6Music Riley/Coe studio session.
Sept. 29: St Leonards, The Piper
Sept. 30: Paris, Popfest
Oct. 13: Leeds, Wharf Chambers
Oct. 14: Newcastle-On-Tyne, Cumberland Arms
Oct. 27: Brighton/Hove, The Brunswick
Oct. 28: London, The Water Rats
Read our Heavenly piece from last year and our Catenary Wires interview from a few years ago!