if you're here, chances are you adore music by talulah gosh, heavenly, marine research and tender trap. the odds are good, then, that you already like the catenary wires, featuring indiepop royals amelia fletcher and rob pursey. they've just released a new album, til the morning, on tapete records and are heading out on tour just now. we caught up with them about their band, their kids, and their lives in kent these days. interview by gail o
chickfactor: what did you set out to sound like with the catenary wires?
amelia:initially we were aiming to sound really minimal. we had moved to the countryside and didn't know anyone, so we started out as just the two of us playing at home, late at night, with our daughter's small acoustic guitar. on the first album (red red skies), we wanted to retain that homespun melancholic intimacy, so we kept the instrumentation very simple. this had the upside that we worked really hard on the songwriting and the lyrics, but we ended up feeling that the songs were almost forced to do too much because the instrumentation wasn't doing enough. we decided to see if we could find a way to achieve the same intimacy, while creating something more musically interesting too.
rob:we wanted it to sound full and rich, but we didn't want it to sound like any of our previous bands (with a standard rhythm section and standard instruments driving everything). so we recorded the guitar and singing first, knowing that this might be enough, then added the other instruments—and then, if we felt we needed any, we added drums. so, the whole thing was recorded upside down, really. the 'drums' were often a piece of wood dropped on the floor, or a metal agricultural trailer being hit. we wrote the songs and recorded them in a fairly remote, rural place, and we wanted the record to sound like that.
cf: tell us a bit more about the new album.
amelia: we are really pleased with how it has worked out. it is made up of twelve songs which are pretty varied but have lots of common thematic threads, both lyrically and musically. we recorded the album with andy lewis. we met him when he was playing with the indie band spearmint, but we were impressed by his far wider set of music references, such as having produced judy dyble (fairport convention), having played bass with paul weller and DJ-ing 60s soul records. he was also happy to work with us to record it at home. his theory is that wherever you can plug in a kettle, you can make an album. so we decided to test that out.
I think my favourite song is "dream town," partly because I don't think it quite sounds like anything else, partly because I find it moving, and partly because it feels very real to me. more prosaically, it is also one of the most jointly written of the songs, in that we both wrote parts of the tune and both wrote parts of the lyrics. a lot of the songs are co-written to some extent, but we rarely hit that degree of balance.
rob: the building where we recorded the music is not soundproofed, so you can occasionally hear birds tweeting in the background, and other rustic noises too. the songs are not exactly idyllic though, so hopefully these gentle rural sounds feel poignant rather than whimsical. we are always a bit paranoid about turning into folk musicians, I don't know why, but here we are, recording gentle songs in lovely countryside with the birds tweeting away in the background. we discussed this issue with andy, and have made sure that the birds have reverb on them, so they aren't too 'pastoral'.
cf: has becoming parents influenced the music that you're making?
rob: I'm sure it has, in many ways. sometimes very literally. for example, the lyrics to "hollywood" are a reaction to our daughters' love of US TV shows, US YouTubers, the ongoing dream of fame and celebrity in L.A. because of my old job (running a TV drama company), I saw the process up close and I am very aware of the gap between the dream and reality. I think the harvey weinstein scandal was breaking at the time too. in the last bit of the song, my voice is his voice, and the voice of many other male directors and producers, telling the young actress to give a performance that is disingenuous and potentially exploitative.

on top of that, we get to hear a lot of the music they like. quite a lot of it is about falling in love, how great it is to kiss someone etc.—just like pop music has always been. so we redressed the balance by doing songs about divorce, falling out of love, adultery etc.

we are also influenced by living with our mothers. amelia's mum passed away last autumn—she had parkinson's disease so took quite a lot of looking after. my mum is with us still, and is very fit and well. but both of them lost their husbands and had to face life on their own again. they both experienced the ultimate, un-wished for divorce. and I think that influenced a few of our songs.
amelia: having to be at home to look after my mum also influenced our decision to record the album at home. at the time, we thought we might be making a compromise in not using a proper studio, but actually working at home allowed us more flexibility to try things and gave the whole album a better sense of place, as per rob's comments about the birds, above. we used local musicians too, including a fluegelhorn player and trombonist from the village, who usually play in military bands but really enjoyed having to turn their hand to indie! we have ended up filming our videos very locally too and editing them ourselves at home. it just seems in keeping.
cf: are your daughters recording and playing shows these days? do tell.
rob: dora's band (wait what) seem to have stopped. they've all been doing their GCSE exams, so maybe that's why. they are more sensible than we are. dora's still playing the guitar though, and I reckon she will find herself in another band. I hope so. I think it just depends on meeting the right people to be in a band with. ivy is also playing a lot of music, and is a very good singer. she sings 'properly'. earlier this evening she was doing a rendition of "back to black" by amy winehouse. that's who she sounds like. how terrifying!
cf: what's happening in kent these days? are there any good musicians or bands coming from the region?
amelia: a strange thing happened when we met our producer, andy lewis. it turned out that he already knew the tiny village in kent where we live—which no one has usually ever heard of—because he had just finished recording an album here with fay hallam. it turned out that she was a neighbour who lived about 6 doors away from us. we in fact already knew about her music but were totally unaware of her proximity! she is a really great hammond player and singer and she ended up both playing on the album and becoming a member of the live band.

rob: in a pub down the road, on the second tuesday of every month, the local folk singers gather and take it in turns to sing their trad songs. I really like it, and maybe when I am 75 I will see if they let me join in.

cf: what's in the fridge? what's in the picnic basket?
rob: in the fridge, there is a lot of daal and cauliflower curry, cos we made far too much of it yesterday. there is a pot of crab apple jelly that my dad made. there are bottles of beer. and there are parsnips. not sure what to do about them.
amelia: there is nothing in the picnic basket. but at least there isa picnic basket. which means one day there might even be a picnic! you never know.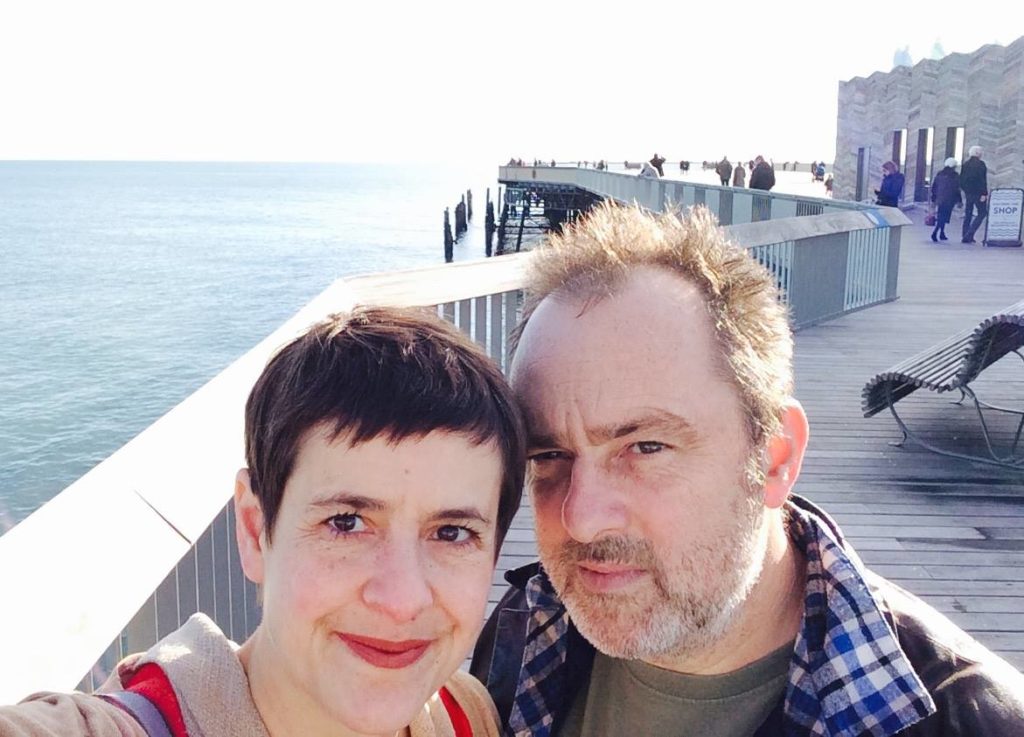 cf: what records do you play more than anything?
amelia:we get force-fed a lot of car seat headrest, brockhampton and billie eilish by the girls, all of which are really pretty good. if we are allowed to play anything ourselves, I usually find myself heading for the delgados (older) and girl ray (newer). rob is a bit obsessed with sleaford mods. we also keep on listening to some of the great duettists, such as nancy and lee, serge gainsbourg and brigitte bardot, johnny cash and june carter, just to see how they go about making duets work. we still feel we have a lot to learn on that front.
cf: is there any news about your previous bands (reissues, etc.)?
rob: I don't think so. personally, I like leaving those things as they are. you can hear most of it online if you want to, and I think it's a bit odd when bands start behaving like their own archivists. we did just discover a cache of old T-shirts—talulah gosh, heavenly etc. I took pictures of amelia wearing them (the history of our bands in T-shirt form, see more on our instagram: @thecatenarywires) and we put them online. actually, sorry, there was one shirt that was an XL, so I had to wear that one. anyway, it was much-liked by the indie fraternity, so that probably goes to show that there is an appetite for the old stuff. I also found the old U-Matic video of 'I fell in love last night', the first heavenly single. I'll get it digitised at some point and stick it online so people can watch it again, if they like.
amelia:well damaged goods did reissue all the talulah gosh stuff recently, so we do let these things happen sometimes. I'd personally quite like to do a 'greatest hits' that covers all our bands. but we'd probably end up having such big arguments about what actually were the 'greatest hits' that it may not be worth it!
cf: what's a good story about john jervis you can tell us?
rob: john's girlfriend, alexandra, is an amazing knitter and maker of clothes, and john is now mostly dressed in things that she makes. he looks very stylish, these days.
cf: who is your favorite london band these days?
rob: I'm embarrassed to say that I don't really know. I spend too much time in kentish pubs listening to octogenarian folk singers and have lost touch with the capital, and its young people.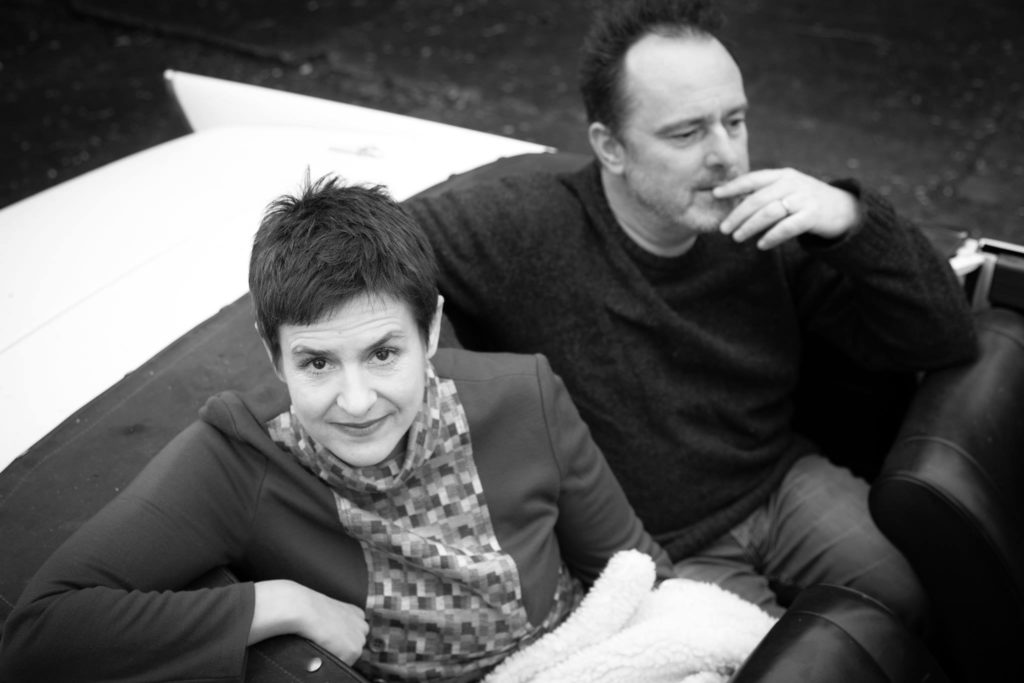 cf: what are the catenary wires up to this summer?
rob: we are playing at indietracks! we will spend a lot of time with the kids, once school breaks up. we are going on holiday with them, to jamaica. we don't normally do that sort of holiday, but I help out with a charity that's based over there, so that's our pretext. we are also going to visit athens, georgia, and new york, and will be playing a couple of catenary wires shows—just as a duo. most of our gigs these days are as a five-piece (with andy lewis on bass, fay hallam on keyboard and ian button on drums), but we like going back to the duo format occasionally.
amelia:we are really just on holiday in america too, but we thought we would slip in as many shows as the kids would accept, which ended up being just two. they are semi-tolerant of, but not at all impressed by, our indie antics. CF