If you're reading this, you probably already know who Michael Galinsky is. We interviewed him back in 2021 (and also in our paper zine) when he was putting together an art show, and he posts zillions of photos of all your favorite bands from the olden days in NYC and Hoboken on his socials. He makes films and TV shows and was in Sleepyhead. He was 20 years old when he drove across the U.S. making these images. He originally made a book called Malls Across America (Steidl, 2010), which is out of print. So he made his own new mall book, The Decline of Mall Civilization, in 2011. He is in the midst of crowdfunding the second edition of The Decline of Mall Civilization, so we wanted to share some of his 1989 photographs shot in malls across America, which have gone viral umpteen times. Interview by Gail / Photos by Michael Galinsky
Chickfactor: Let's start with the basics about the book(s).
Michael Galinsky: I created this project when I took a color printing class in 1989. It was at NYU, but it was not in the art school. It was in the education school. I didn't feel like I was an art student. I had this idea that I wasn't that kind of creative person and the way that I took photos was more observational, which didn't seem like art, but it also didn't feel like journalism. I was going to a photo bookstore a few times a week, going through all these books and figuring out what I liked. What I found I liked was mostly stuff that was documentary in style but wasn't really a documentary—so it was folks like Robert Frank, Lee Friedlander or Garry Winogrand. People who were observing the world, but from kind of a specific and interesting point of view that wasn't so specific and interesting that it drew attention to their prowess as a technical shooter. I was really annoyed by technical stuff. It almost always ended up feeling like advertising copy or something, or drawing attention to this precision stuff that I wasn't interested in. There was this connection between photography and music, and what I was mostly photographing at the time was shows. I was just trying to figure out what it was to be a photographer. a friend who was a photo student looked my photos, and he was like, "you should be trying to figure out what you're shooting." That was such great advice, to be thinking of the frame as a frame. My photo education was this bookstore where I looked at stuff, and then the first class I had was this color photography class and the teacher was awesome. Her first assignment was to watch River's Edge and think about the color, the way it's used and what it's trying to say.
Keanu's best work probably.
By far. It's just a weird, crazy movie but it made me think, how are the images being used, and how is the camera being used? So even in photography, it started making me think about storytelling. I had to have a project. My girlfriend went to college on Long Island. I was visiting her, and we went to the mall, and I was like, "Oh my God, I have my project." I shot like a roll that week. I went back the next week. My teacher was like, "this is great, you should continue this project." So, I drove across the country, I took pictures all over the place. No idea what the fuck I was doing.
Which route did you take?
I went with my friend Sebastian; first we drove from Chapel Hill to Columbus, OH, because my aunt lived there. Then we went to Chicago, where we stayed with Gene Booth, and he took us to some malls and then we went to Detroit, where we met my friend Tom, and he took us to some malls. Then we just hightailed it across the country. I think we stopped in Wisconsin, but we didn't find a mall. We just kind of stumbled upon places. We got to San Francisco after going up through Seattle and down and then our car got broken into; thankfully, we'd camped on the side of the road the night before and the car was a fucking mess. I had a bag with the film in it and the ones that were shot had not been separated from the unshot ones. That night I separated them out and I stuck that (shot) bag under the front seat. The other film got stolen. My friend was like, "I'm done." It's hard to travel, so we drove from San Francisco 40 hours straight to Saint Louis, shot a couple malls there. We did stop once near Denver, in a mall in Aurora, Colorado, but literally didn't sleep. One of us slept, the other drove.
What kind of chemicals were in your body to be able to do that? Just caffeine?
A lot of coffee and cokes. When you got tired of driving, you just switch seats. If you can't keep your eyes open, you can't keep your eyes open.
Originally there was no interest in the project. I had no concept of how you do something with work when you have it. I went to one gallery where they literally laughed at me. They're like, "these are pictures of people in malls. Yeah, it's not really for us." I just felt ashamed and weird, and I never did anything with them. I showed them once when we (Sleepyhead) played with Guided By Voices at Threadwaxing. I set up a projector and I projected them on the back wall. And then they went back into the box.
In 2010 I put them online and they went crazy. I found a box of the slides. I had two boxes, which I thought were the best ones. I started scanning those. Some of the other ones, all the rejects, are the best ones. They didn't used to mean anything, but now they do. They're the wide shots and stuff. I didn't think those were important at the time. I brought them back to New York. I did a Kickstarter and that ended up being a book called Malls Across America, which went viral again when it came out and sold out. It's hard to get now and what happened was because they didn't reprint it.
When it was going viral, this designer came to me and said, "hey, I have this imprint on Steidl or Rizzoli, would you like to do one of those?" He wanted to look at the slides. He wasn't even a guy who's ever on the Internet, but so many people contacted him. He was like, "OK, let's do a book." We could do it on Rizzoli. It will be in the malls, or we could do it on Steidl and then you could make this amazing book. You probably won't get paid, but it'll be the most beautiful book ever. I knew who Steidl was because I'd filmed a conversation between him and Robert Frank at the New York Public Library. So I was like Rizzoli, it should be in the malls. He's like, OK. The next day I was at Hot Docs film festival and this guy I was with says, "let's go see this movie: How to Make a Book with Steidl." I was like, "you're kidding." The first movie there was him making books with Robert Frank. I was like, "OK, let's do it on Steidl," which ended up being a nightmare. They took forever; they printed a beautiful book. They didn't see me as the artist, they saw the designer, Peter Miles, as the artist. It was his project to them. So, they didn't let me come to help make it. Then I had 300 books to send to backers, and they charged me like $25 a book. But at that point, Kickstarter, you didn't add in shipping. So, I had to ship these books all over the world. It cost me more to do this than I raised for making the books. So, it was kind of a nightmare.
Malls Across America was all double page spreads and it was meant to be lay flat, but they didn't. The printing itself is unbelievable. You can't believe that this is a printed book. I mean, it looks so beautiful. The paper is so thick. I was told it was going to lay flat. I wasn't there and it didn't happen. People still appreciate that book. It was like The Times top ten list and stuff like that. It's out of print. And if they want to reprint it, I will let them. But they did also destroy a bunch of my slides because they wet plate scanned them, and I was like, it's Steidl, I don't need to check them. And then when I replied to rescan them for this book, I found some of them are all covered in mold. Steidl wouldn't give me their scans until I explained that to them. They did it as a wet plate scan, meaning they got wet and then didn't dry them properly so when they put them back in, they were moldy. I would have them do the book again if they wanted to because I'd like it to be out. I'd like them to do a second printing. But they didn't and it's fine. What I'm going to do next is make a book that combines the best of both books.
I didn't feel like I had the agency to like kind of reprint the book that they designed. So I made an entirely new book with entirely new images, and that book was called The Decline of Mall Civilization, which, as anybody in your audience knows, is a reference to the Penelope Spheeris series. I was really into those movies. It made sense that I was documenting in the same way as maybe she did, in an observational way that wasn't judgmental and was open to whatever it was, even if some of it seemed a little silly. And so I made that book, I did a Kickstarter and that sold out immediately. So that book now goes for $500 like the first one.
Then I met with a publicist in Brooklyn, and I was like, "listen, I'm going to make this go viral." And she was like, "Yes, everybody believes that." I'm like, no, no, really. I was like, please make sure they print enough. She was like, "OK." The Kickstarter was 2011 and this was 2013, so I had a bunch of really angry backers, and I got them to all them. But here's the thing: The book also, because it was priced pretty cheap, actually they priced it at like $36, even though they charged me $25. One article in Gizmodo had a like an Amazon clicker, it sold well over 600 copies. It also talked about The Americans; it sold 75 copies of that. It sold out so fast that it didn't even go to stores. It never went to stores in the US, like no stores were able to get it. And then they said, "OK, yeah, yeah, we'll reprint it but then they didn't." So that's why it costs so much now (from $500 to $4000). A few years later, I made a new book, which is entirely my own. All new images, laid out differently, Tae (Won Yu) designed it.
Recently, this website called Chasing the 80s made a reel of the book, and it just went crazy. It got like 600,000 views. So, I was getting crushed with requests for The Decline, and I don't have it. And the price was going up even more. I was like, OK, I already have the printer, I already have the drop shipper. I'm just going to do another Kickstarter because these people want it so badly and it doesn't seem fair to kind of be like "you can't have it."  
I spent a lot of time looking at older books of older photos that resonated with me, even though I hadn't been in that time. I was really into music at the time and reading about old music. I was aware that if you're looking at Television pictures, someone was there, and they were taking those pictures and nobody else was. I started to go to shows and take pictures of bands that I liked but I wouldn't do it if anybody else was taking pictures because film was expensive and I was in my head, it was like, this is important, it needs to be documented. That's how I felt about the malls. You never saw anybody in the mall with a camera and I knew they would go away, and I thought, this is going to be interesting in a while. Now, 30 years later, it has a much deeper resonance.
What was it about that original mall that made you think this was a good idea? Generally, people didn't know you were photographing them.
Right. I was shooting from the hip, and I was doing it like as if I was … quite immediately it felt like this is what America is. I was thinking about Robert Frank's The Americans and he shot so much in diners and honkytonks, like if he was going across America now he would be shooting in malls. But I also thought of William Eggleston, if he was doing it in malls, he would be doing it in color like William Eggleston because photography expands, and color had become possible and had become an art form. I was kind of combining those two elements in my head and I didn't have a lot of great technical prowess, but I was also taking a lot of anthropology, religious studies classes, sociology. So, I was thinking like the way you want to do this is without judgment, even though was a judgmental punk rock motherfucker and I hated the mall, I was like, that's not the way to make this work. 
A lot of people in places with malls didn't have other options. They don't live near cafes or pubs. It's where I worked as a teenager. Has anyone in the photos contacted you? Tell us a story about any of those people. 
There's a picture of two couples, like an old couple looking one way and a young couple looking another way on a bench. And it's almost like kind of mirror images of these couples. And I was like, oh, that's great. I was on my Facebook page for 10 years and just before the book came out, someone was like, "hey, that's me." She came to the opening and we started talking at a signing at Dashwood Books in New York. Mike McGonigal was there. Tae was there. My friend Jimmy was there. Suki was there. The woman I had photographed was like "Oh my God, like two years before that, I had a pink liberty Mohawk." She said her favorite band was the Butthole Surfers, and half the people at the opening realized we had all been at the same Butthole Surfers show at the Ritz in 1987.
Once I studied all the Top 40s and Billboard 100s from every year of my lifetime and the late 80s had the worst popular music. What did these malls had in common, what was the vibe? 
The malls all had a sense of placelessness. I took a couple pictures outside a mall, but they all look the same outside and they all look the same inside. When I got back, I tried to write down the names of all the malls. Like I could kind of tell from a set where it was. Sometimes I couldn't even and so I'd write that. But then when I had to scan them, I had to take all the images out. So now I don't know where they're from, but I can usually tell by the floors is the most telling sign. Woodfield Mall had amazing architecture. Southdale Mall in Minneapolis was one of the very first malls. So that was kind of lucky. I stumbled upon that, and it was designed by Victor Gruen, who designed the first malls. But also, what was weird is there's a mall in Vancouver, WA, looked just like one in Columbia, MO, it was literally the same with all the same places in the food court. It was such a weird, shocking thing.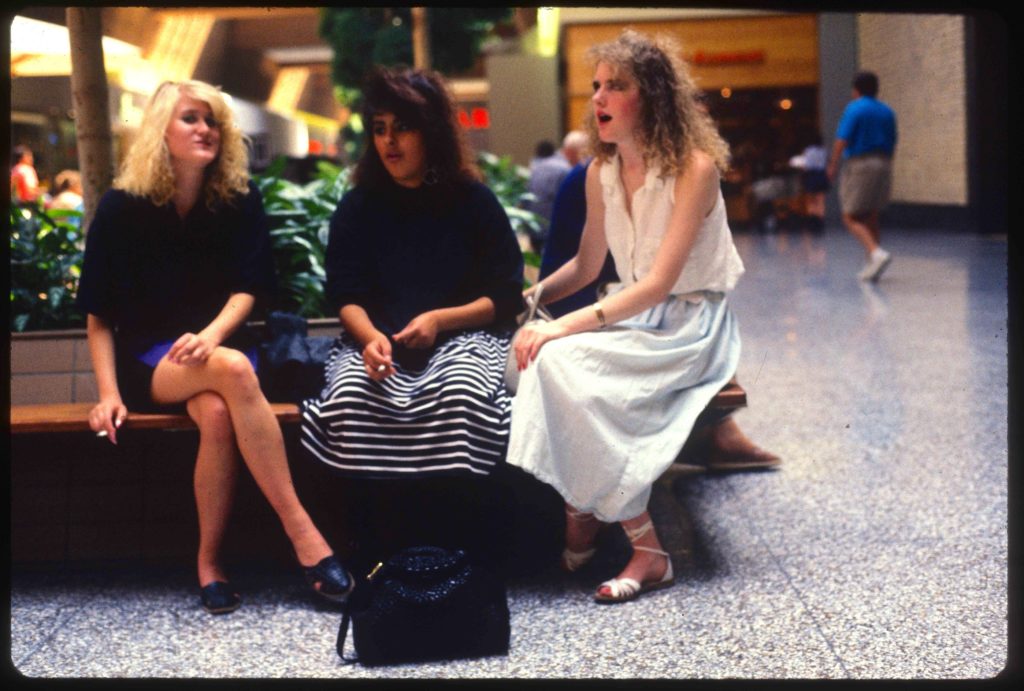 Have you ever had a problem with somebody you photographed asking you to remove it? 
Once or twice, someone didn't like the way they looked. Most people are happy to have it documented. I haven't had any issues with this project, but I've had it with other things. It's confusing because one of the important aspects of a free culture is that we should be free to make images in a public space. I mean, that's the law. No one has the right to say "you can't take my picture" if you're out in public. You can't then turn around and like use it to sell something, but you can make art out of it. And that's important. But it's also important to be respectful of what other people desire but trying to balance that out with public needs. there are people who do it problematically. At the same time, if you look at what's so important to our culture, if we didn't have Vivian Maier and Robert Frank, these things are important for understanding our culture in the future.
Things are so much more politicized now.
People have often said to me, "hey, don't take my picture" and I'll try to honor that. But when it's violent and they grab your camera, they get in the way of you photographing or talking to someone else, and they'll disrupt it, they also don't want to be seen. It's complicated and important for the free flow of information that we allow these things to happen. We are in such a weirdly politicized moment that I'm less interested in doing anything political anymore, and it's hard to find the value in a lot of this stuff.
Do you have any tips for photographers who want to make their own book or crowdfund?
Number one, be patient. Shoot a lot. Be Organized. Double back everything up and take the time to put them in a folder with a date and some keywords so that you can find stuff later, which I didn't do. I did kind of organize my negatives back in the day, but not that well. The main power of photography is it captures something that will be gone. It captures a moment that will not be repeated.
Don't launch until you've already created a lot of connectivity, so people who will share it, websites that will share it because without networks, without people sharing the work, it's difficult. There was so much demand for this that I set up a sign up for an e-mail. So, the first day of this campaign we already made 50% of the money. So, it relies on having people willing to share and want to back what you're doing. Someone will share it; I'll see it get shared and then there's two sales. So, it really does impact it. So, make sure that the people you have as allies are going to step up and be an ally.
You collector geeks need this book: order here.